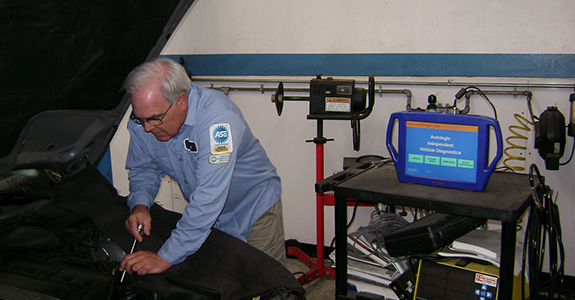 For 20 years and counting, Brad's Motor Werkes has been the trusted BMW shop in Conejo Valley, CA for countless owners of BMW vehicles. As a repair shop that works exclusively on BMWs, we have decades of knowledge and expertise that we bring to every job, allowing us to diagnose problems quickly and accurately, make the repairs your vehicle needs and send you on your way. Here's a closer look at our services:
Complete range of services: Brad's Motor Werkes is pleased to offer a full range of repairs for BMWs, and as comprehensive a list of services as you'll ever find. We'll work to meet your goals for your vehicle, performing needed repairs and maintenance services on schedule—but we're also great if you just need a quick oil and filter change. We also specialize in air conditioning service, so be sure to come see us when things start heating up!
Advanced diagnostic services: To identify and get to the root of any problem with your BMW, we offer engine, computer and electrical diagnostic services, using the latest diagnostic tools and equipment. By diagnosing problems correctly, we can more effectively service your vehicle, keep it running longer and ensure you remain a happy driver.
Pre-purchase inspection: Have you found a BMW for sale, but want to be certain it's a worthy investment? Give Brad's Motor Werkes a call and arrange for a pre-purchase inspection. We'll go over the vehicle, inside and out, to identify any issues you may want to know about.
Access to all service and repair information: Our dealer-level access allows us to properly service and repair your vehicle on schedule to help you avoid surprise expenses and ensure you're staying up to date.
Warranties available: Brad's Motor Werkes stands behind the quality of its work. To provide our customers with additional peace of mind, we offer a two-year warranty on work performed, unless stated otherwise.
Personal service: When you visit Brad's Motor Werkes for BMW tuning in Conejo Valley, CA, you'll benefit from highly personalized service. We're a one-man shop, with no employees, meaning you'll benefit directly from Brad's 30-plus years of BMW experience.
Finding a BMW expert in your area can seem like a challenge, but when you bring your vehicle to Brad's Motor Werkes, your search will come to an end. To learn more about our services and what we can offer, or to schedule an appointment, please call us today at (805) 499-0083.